Marilyn Meredith
Leasing Administrator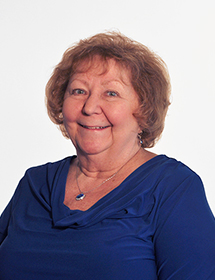 As the Leasing Administrator, Marilyn Meredith maintains the property availability inventory, handles space inquiries and schedules property tours. She prepares and/or reviews all Leases, Extensions and other Amendments for Ari-El Enterprises' group of properties consisting of more than 450 spaces.
Marilyn prepares marketing materials, brochures and proposals as well as maintains the company web site with weekly updates.
In 1997, Marilyn obtained her Michigan real estate license and has worked in the commercial real estate field since that time. She has a strong sales background having sold advertising, graphic design services and commercial printing.  Ms. Meredith is also a notary public.
Ms. Meredith is currently the President of Three Cities Art Club and enjoys doing portraits, landscapes, florals and abstract designs using pastel, watercolor and acrylic mediums. Her work has won numerous awards and her art hangs in private collections and businesses across the country.
contact details
29355 Northwestern Hwy., Suite 301, Southfield, MI 48034-1045